The Kingfisher Centre is our Specialist Resource Provision which is a dedicated unit specifically, for students with SEMH (Social, Emotional and Mental Health), and mild to moderate associated learning needs.
In September 2022, the Kingfisher Centre opened its doors to 4 students initially. The opening of the Kingfisher Centre is a culmination of hard work and determination for all the staff involved. It exemplifies our vision that all children matter, and that we want to support all of our students to access the right education for them.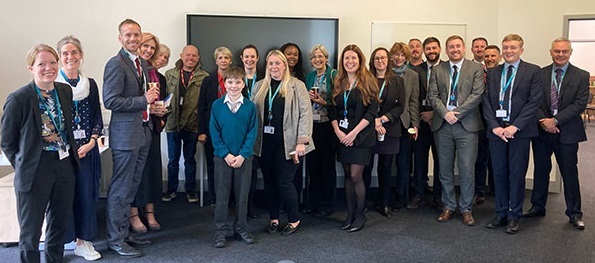 The vision of the Kingfisher Centre:
To be an integral part of our school and a centre of excellence for children with SEMH and children who, with support, can access opportunities in mainstream education.
To be a base where children with SEMH are supported to learn strategies to overcome their lifelong, neuro developmental disability. Focusing on communicating and interacting with and relating to others, and experiencing the diverse, real world around them.
To be an inspirational beacon of inclusion and equity.
The Kingfisher Centre aims to provide:
An additional facility where learning is developmental and visible and children are nurtured and safeguarded.
A rigorous assessment system to ensure pupils are in the right place at the right time so that no pupil falls behind.
A learning community where pupils, families and staff collaborate to refine practice, e.g. sharing SEMH friendly approaches and coping strategies, and develop positive and rewarding relationships.
Access for all students to their mainstream classes, as much as possible, to inspire their future aspirations.
Access to a broad and balanced curriculum which helps to develop their communication and interaction skills.
Support to cope with issues such as anxiety e.g. by developing self-regulation through access to ELSA and Social Skills groups.
Participation opportunites in physical and sensory activities and develop happiness, health and wellbeing.