At Teddington, we combine academic success with a supportive and nurturing environment. Our Sixth Form offers more structure than a college, allowing for a more steady, staggered transition from GCSE to Post-16 learning. Our class sizes are smaller, encouraging students to engage more during lesson time as well as receiving additional encouragement and support from our teachers. We provide students with the freedom to think and create within the organised structure of a school day. Within this structure there is a great deal of flexibility with students being given time to work independently during timetabled study periods.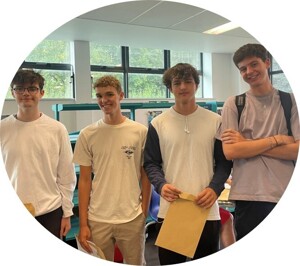 Outstanding results
We are pleased to say that staff and students at Teddington School celebrated a return to examinations with a fantastic set of results at Key Stage 5. Our Year 13 students excelled themselves and once again met our high expectations, with the majority of Year 13 students securing their first choice of university and 38% of students moving to a Russell Group University.
In Year 13, 33.3% of all A Level entries were graded at A*-A, 64.4% at A*-B and 80.6% A*-C. 10 (13.3%) of our students achieved straight A*-A . Our progress score is +0.01 with an ALPS score of 4, placing us in the top 40% of the schools in the country.
| | |
| --- | --- |
| Year 13 | |
| A* - A Grades | 33.3% |
| A* - B Grades | 64.4% |
| A* - C Grades | 80.6% |
| Level 3 Value Added | +0.01 |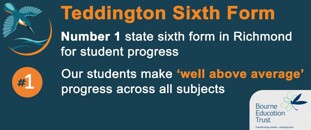 Our site
Our purpose built sixth form centre contains one ICT room, 8 light-filled classrooms, 3 spacious science laboratories, a multi-media study centre and a convivial cafe area complete with sofas and a kitchen.
Our first class sports facilities include two astro turf pitches, a sports hall, two activity studios as well as two tennis courts. Teddington School also offers access to two music suites equipped with MACs, a number of practice rooms, four spacious art rooms as well as our theatre. As our school lies on the outline of Hampton Wick, we benefit from being only a five minute bike ride from Bushy Park and Kingston town centre. In addition, we are thirty minutes - by public transport - from the centre of London so our students have the advantage of this international city's considerable cultural and economic riches.

Oxbridge
We expect our students to gain places at the country's leading universities, including Oxford and Cambridge. Teddington School has a significant network of Oxbridge alumni whose expertise we draw upon with many of our teachers having attended. We work closely with academics from various colleges to ensure our students compete on an equal footing with their independent school counterparts. We currently have the highest number of Oxbridge applicants of all Richmond comprehensive schools.
University and Apprenticeships
We offer very hands-on, personalised support for university and apprenticeship applications- something that has been highly commended. All students receive 1 on 1 sessions with our staff to work on their UCAS applications as well as any other career guidance they may need. We currently have the highest number of successful apprenticeship placements of all Richmond comprehensive schools.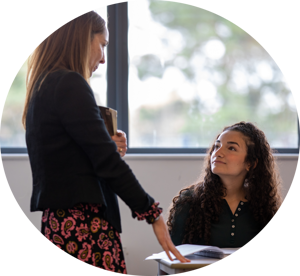 Challenge, Motivate, Achieve
After their first term with us, students with an excellent record of attendance and punctuality and who have developed their A level study skills are rewarded when they are given the option to leave the school site to work at home when they do not have timetabled lessons. This initiative is highly valued by our students as they know that this is a signifier of their strong academic potential.
All students select 3 subjects that they carry through to Year 13, with exams at the end. Some students may also choose to do an 'Extended Project Qualification' on a topic of their choosing. This is an additional qualification you can take alongside your A Levels. It helps to develop research skills, time management and a whole host of other skills that could be very useful at university. Some students may opt to do 4 A Levels, but this will be dependent on their GCSE grades.