The Library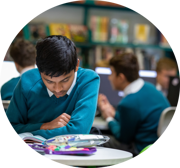 All students are encouraged to access our library and may borrow up to two books for two weeks (more books can be issued to voracious readers who are library regulars, at the discretion of the librarian).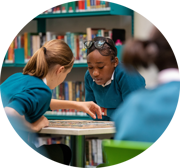 We strive to maintain a stimulating, exciting, inclusive selection of up-to-date reading material, both fiction and non-fiction, through a budget, support from the PTA and good-quality donations (see below).
Book Donations
The school is always grateful for book donations. We ask that the books are in excellent condition, so they are more appealing to students.
If you would like to donate any books, please contact our school librarian, Mrs Ricker by emailing rickers@teddingtonschool.org in the first instance.
There are many, well-documented benefits to reading for pleasure:
Reading for pleasure can increase empathy, improve relationships with others, reduce the symptoms of depression and improve wellbeing throughout life (The Reading Agency 2015).
Students with more positive attitudes towards reading are more likely to read at or above the expected level for their age (Clark 2014).
Reading for pleasure has social benefits and can make people feel more connected to the wider community. It increases a person's understanding of their own identity and gives them an insight into the world view of others (The Reading Agency 2015).
There is a strong association between the amount of reading for pleasure students say they do and their reading achievement (Twist 2007).
Students who read for pleasure make significantly more progress in vocabulary, spelling and maths than children who read very little (Sullivan and Brown 2013).
The encouraging of students to read books of their choice for pleasure by school staff is a major contribution towards them developing a positive attitude towards reading and a life-long interest in reading. (International Reading Association, 2014).

TenTop Tips to support Reading
It's all about you: Choose a book which captures your interest and provides a space for your mind to relax in every day. It doesn't have to impress anyone.
Be kind to yourself: Have a break from reading the news if it makes you upset or anxious. Choose a book in which you can escape to another world, or read about an activity you enjoy doing, or a person who fascinates you. Find a comfy, warm, well-lit place to read, whether that's your bed, the sofa or the toilet!
Don't struggle on with a book that's too hard: If there are too many words per page you don't know, try another.
Re-read if you like: If there's a book you love, it's fine to read it again and again. Re-reading builds confidence and fluency.
Try manga or a graphic novel: These are available in a range of genres. For ideas, check out: http://www.excelsioraward.co.uk/ or browse our popular manga and graphic novel section at school.
Download an audiobook: Listen while you walk to the shops, or before you go to sleep. As well as being calming, audiobooks help improve your pronunciation, memory and critical-thinking skills.
Don't dismiss poetry – full-length novels written in verse are very popular at the moment. All that white space on a page makes them easy to read, and they can have a big emotional impact. Authors to try include Sarah Crossan, Dean Atta and Elizabeth Acevedo.
Tune into the zeitgiest: Ask friends for book recommendations or go online to see what book bloggers, BookTubers and BookTok are recommending. Your peers may offer suggestions which teachers and librarians haven't caught up with yet.
Keep a list – it's interesting to look back on what you've read and it will remind you which authors you like.
Share the love – read to siblings or make videos for younger cousins. It will help them and create long-lasting memories.