It is very important that students wear their uniform with pride. Please could we ask for your daily support in ensuring that your child conforms to the school uniform policy.
All uniform can be purchased from Stevensons (formerly Len Smith's) in Twickenham.
Address: 1-15 Heath Road, Twickenham TW1 4DB. Tel: 020 8892 2201
Opening hours: Monday - Saturday 9.00am - 5.30pm.
Click here to visit their online shop
Girls Uniform
Boys Uniform

Piped skirt or grey trousers (please note we are removing the old skirt to standardise the uniform, if you currently only have an old skirt, please make sure that you have purchased the new one for September)

Black leather shoes

Black (or plain) tights or knee-length plain black socks

Teddington School blouse (square-cut with collar and logo) tucked in at the waist

Teddington School jumper (compulsory in autumn and spring terms).

Plain white shirt – (square-cut and tucked in at the waist)

Teddington School tie

Teddington School Jumper (compulsory in the autumn and spring terms)

Grey trousers (not black)

Black leather shoes

Black ankle socks.
---

PE Kit Compulsory:
PE polo shirt (optional fitted version for girls) – from supplier
Black shorts with logo (boys) - from supplier
Black skort with logo (girls) – from supplier
Non-marking trainers.
PE Kit - optional items:
Mid layer quarter zip black top with coloured panels - from supplier
Waterproof tracksuit top, black with coloured panels - from supplier
Black or white base layer
School tracksuit bottoms black with logo - from supplier
White short socks
Black Teddington games socks - from supplier
Rugby Boots /Astros.
---
Shoes
Acceptable Styles
Black formal shoes of plain leather material. Laces should be black and the shoes should have a proper back and be able to be polished.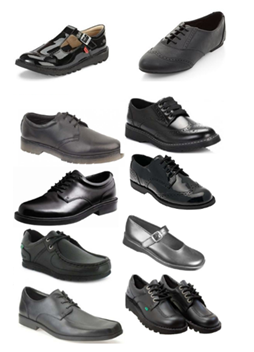 Unacceptable Styles
No canvas / slipper styles, no "Converse" or "Vans" or Vans style. No shoes with a sports logo, no boots, no trainers, no open backed shoes, no ballet shoes and no coloured laces. Please be careful as many sports shops market school shoes which are actually trainers.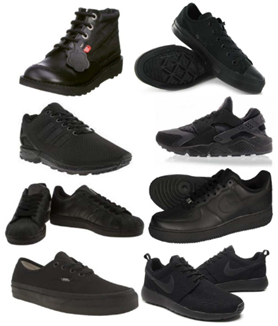 ---
General Rules on Appearance and Jewellery
Hair Styles: Hair must be a reasonable style, length and colour. Shaved or part shaved heads or Mohican style hair cuts are not acceptable. Hair colour changes should only be to naturally occurring hair colours and should be the same colour all over.
Piercing: Only one small, plain "stud" per ear, in the lobe, is allowed to be worn. NO OTHER piercing, with a ring or stud etc is permitted and covering with a plaster WILL NOT be allowed as an alternative to removal. It is vital therefore that, if you give your child permission to have any piercing, it must be done at the start of a long school holiday, in order that any piercing jewellery can be removed during the school day.
Make-up: This must be "subtle" and unnoticeable; coloured nail varnish is not permitted.
Jewellery: Students may wear a watch and one modest ring per hand. Necklaces or neck chains may not be worn. Only one bracelet may be worn. The school will not take responsibility for the loss of any item of jewellery brought into school, and watches/other permitted jewellery should be placed in students' lockers before PE lessons.
Tattoos: Students are not allowed to have temporary or semi-permanent tattoos in any visible position (including visible during PE). Permanent tattoos are of course illegal for any one under the age of 18 (Tattooing of Minors Act 1969), so we would assume that no student will come to school displaying one of these.
---
For those students that do not comply with uniform expectations
If pupils are not wearing the correct uniform they will be offered alternative, washed items of uniform if they are available. Parents/carers will be contacted and asked to rectify the problem for the next day.
If a pupil fails to bring in the correct PE kit, he or she will be offered spare kit. Refusal to wear this will result in a detention.
If the student refuses to wear the washed uniform, their parents/carers will be asked to bring in the correct uniform, or to tell their children to wear the school's spare items.
Where a pupil refuses to wear the correct uniform despite requests by the school and his or her parents/carers, this will be deemed a refusal to carry out a reasonable instruction and will lead to the pupil being placed in isolation for the rest of the day.
The school reserves the right to send students home to correct infringements of uniform and appearance rules, in line with current exclusions guidance.